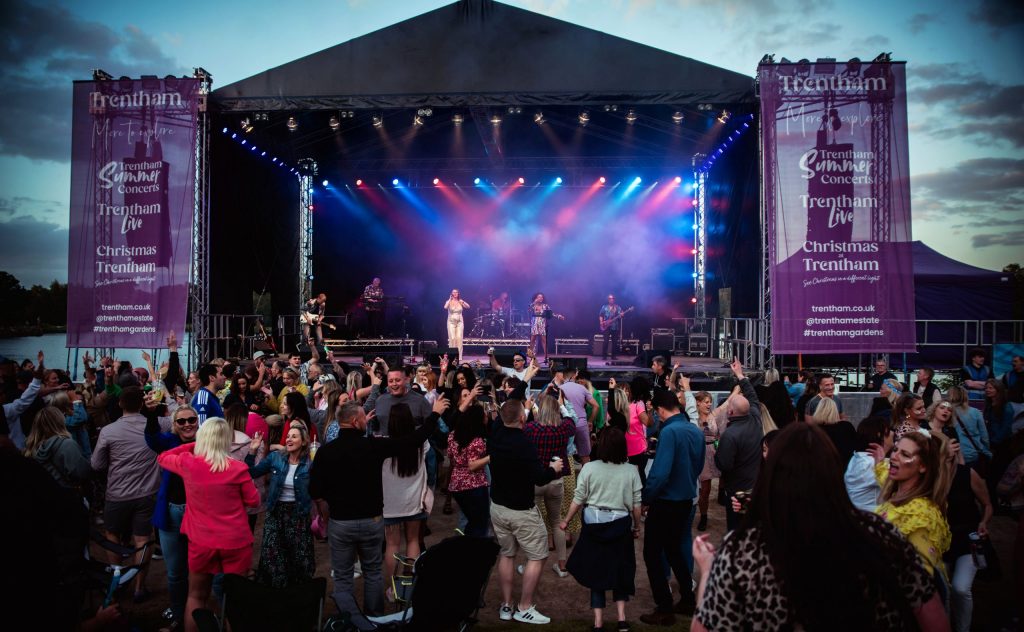 July 7, 2023 - August 5, 2023
Trentham Summer Concerts
Get ready for a sizzling summer of live music and family fun. Whether you're looking for Monster Rock Anthems, Club Classics or Abba Reunion, we've got five weekends of summer evening fun. So, plan your picnic and your fizz and book early as tickets sell fast.
Friday 7 July 2023: Ultimate Party
The clue is in the name – set to be a night full of your favourite floor fillers and party anthems, bring your dancing shoes and all the good vibes for a fun filled night of party classics, with our brand-new band for 2023, Jam Hot Showband!
Saturday 8 July 2023: Monster Rock Anthems
Thunder Hammer will be ROCKING Trentham Gardens once again in 2023! Performing massive rock hits from Guns N Roses, ACDC Iron Maiden, Bon Jovi, and many more! Get ready for Thunder Hammer to take you on the ultimate journey, into the depths of the greatest rock anthems of all time…
Friday 14 July 2023: Motown & Soul
All the very best of Soul, Motown and Funk songs from the last five decades! Detroit Soul Collective are guaranteed to get you up on your feet and dancing to the best of Motown, from the likes of Bruno Mars, Luther Vandross, The Jacksons and Stevie Wonder!
Saturday 15 July 2023: ABBA Reunion (SOLD OUT)
ABBA REUNION gives ABBA fans, old and new, the opportunity to get together and re-live the addictive disco tunes of the 70s and 80s! All of the greatest hits will get you 'Dancing, Queen'!
Friday 21 July 2023: Majesty – A Tribute to Queen
Get ready for Trentham's Tribute to Queen concert – with brand-new world-renowned tribute for 2023! "We Will Rock You" this summer, as Majesty Queen Tribute perform all the hits from Queen and Freddie Mercury's decade-spanning career, so bring your 'Best friend' and get ready to sing your heart out!
Saturday 22 July 2023: Back to the 90s & 00s (SOLD OUT)
You're in for a treat with a night of 90s AND 00s throwback hits. Pack a picnic and get ready to party by the lakeside and dance the night away – expect the very best tracks, from the likes of The Spice Girls, Britney Spears, Take That and The Black Eyed Peas!
Friday 28 July 2023: Wildboys Ultimate 80s
Get ready for the sound of the Ultimate 80s at Trentham Gardens with our brand-new band for 2023, The Wildboys! Dance the night away as the authentic live band performing smash hits from the 80s. Themed and fancy dress is highly encouraged, bring out the neon and don't forget your picnic!
Saturday 29 July 2023: Indie Session: Scam Fender, Kopykat Killerz & Subarctic Monkeys
Get ready for an incredible indie-rock night as 'The Kopycat Killers' are back, with their amazing tributes to both The Killers' and Arctic Monkeys', PLUS new for 2023, Scam Fender! Performing all of the top hits by up-and-coming artist Sam Fender!
Friday 4 August 2023: Tina Turner, Madonna, & Cher – The American Divas
The American Divas take us on a nostalgic journey through the careers of Cher, Tina Turner and Madonna, 3 legendary women, paying homage to the songs, the looks and the performances that have earned them recognition throughout the world! "Believe" us when we say, you don't want to miss this one!
Saturday 5 August 2023: Club Classics
Back again by popular demand to close our sizzling summer of concerts, join our hugely popular Club Classics night with the talented HouseJammerz! Get ready, to dance and sing to these throwback anthems in our outdoor 'club', with a bigger and better setlist than ever!
Event information
Date
July 7, 2023 - August 5, 2023
Cost
£19 plus booking fees
VIP gazebo – £65 plus booking fees
Location
Trentham Gardens Amphitheatre