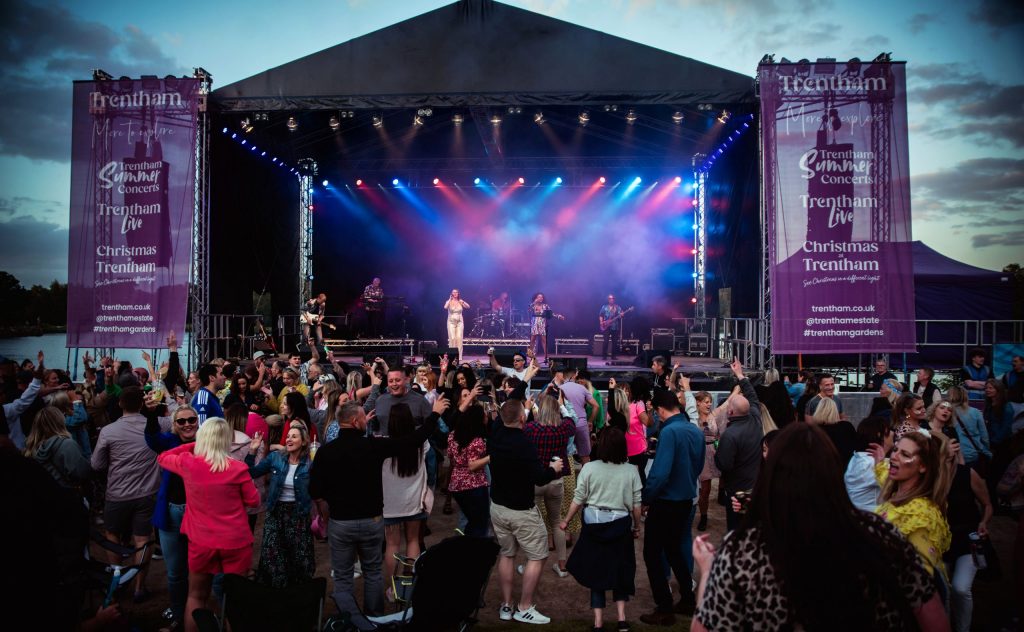 June 10, 2022 - July 23, 2022
Trentham Summer Concerts
Book your tickets and get ready for a sizzling summer of live music and family fun. Whether you're looking for a Disco Inferno or Monsters of Rock, Club Classics or Abba Reunion, we've got seven weekends of summer evening fun. It's time to pack a picnic, bring a chair and choose your fizz!
Friday 1 July
ABBA REUNION gives ABBA fans, old and new, the opportunity to get together and re-live the addictive disco tunes of the 70s and 80s! All of the greatest hits will get you 'Dancing, Queen'!
Saturday 2 July
The Kopycat Killers + Subarctic Monkeys
Get ready for an incredible indie-rock night on Saturday 2nd July as The Kopycat Killers – The Killers Tribute Band perform a dual set of The Killers' and Arctic Monkeys' best hits! Just don't forget the picnic to party the night away.
Friday 8 July
Get ready for Trentham's Tribute to Queen concert on Friday 8 July! "We Will Rock You" this summer, as Mercury Queen Tribute perform all the hits from Queen and Freddie Mercury's decade-spanning career.
Saturday 9 July
Pack a picnic and join a night of Club Classics with House Jammerz and get ready for a bigger show and a better setlist than ever before.
Friday 15 July
Get ready for a night of 80's Mania at Trentham Gardens. Dance the night away as the authentic live band perform over 35 chart-topping smash-hits from the 80s. Maybe even pull out the jumpsuit and neon accessories. Just don't forget the picnic!
Saturday 16 July
Thunder Hammer will be ROCKING Trentham Gardens on Saturday 16th July, performing iconic rock hits from Guns N Roses, ACDC Iron Maiden, Bon Jovi, and many more! Get ready for Thunder Hammer to take you on the ultimate journey, into the depths of the greatest and most iconic rock anthems of all time…
Friday 22 July
Get this summer party started with a mix of pop, soul, and disco classics on Friday 22nd July! Expect hits from a huge range of artists through the years, from Bruno Mars and Pharrell Williams to Stevie Wonder and Tina Turner. Just don't forget to bring the ultimate picnic!
Saturday 23 July
It's the sound that shaped a generation; a movement that defined a generation – now we can all be there again. Enjoy the very best of Britpop Live at Trentham. From Blur to The Verve, Oasis to Stone Roses, soak up the atmosphere in an iconic lakeside setting. Just don't forget the picnic!
Event information
Date
June 10, 2022 - July 23, 2022
Cost
£19.00 per person plus booking fees
Spread the cost with our flexible payment plans available at the Ticketmaster payment check out. Tickets available from just £7.48* pp!
*Prices correct as of 29 April 2022 if paid in 3 instalments. If purchased later, instalment amounts may increase and number of instalments may vary. A per order handling fee may apply. Payment plan terms and conditions apply.
Location
Trentham Gardens
Booking Info
Tickets are now available via ticketmaster.co.uk/trentham-summer-concerts
Garden Gazebo's are now fully sold out on all concert nights.
Get in touch at events@trentham.co.uk to find out more about corporate hospitality packages available.