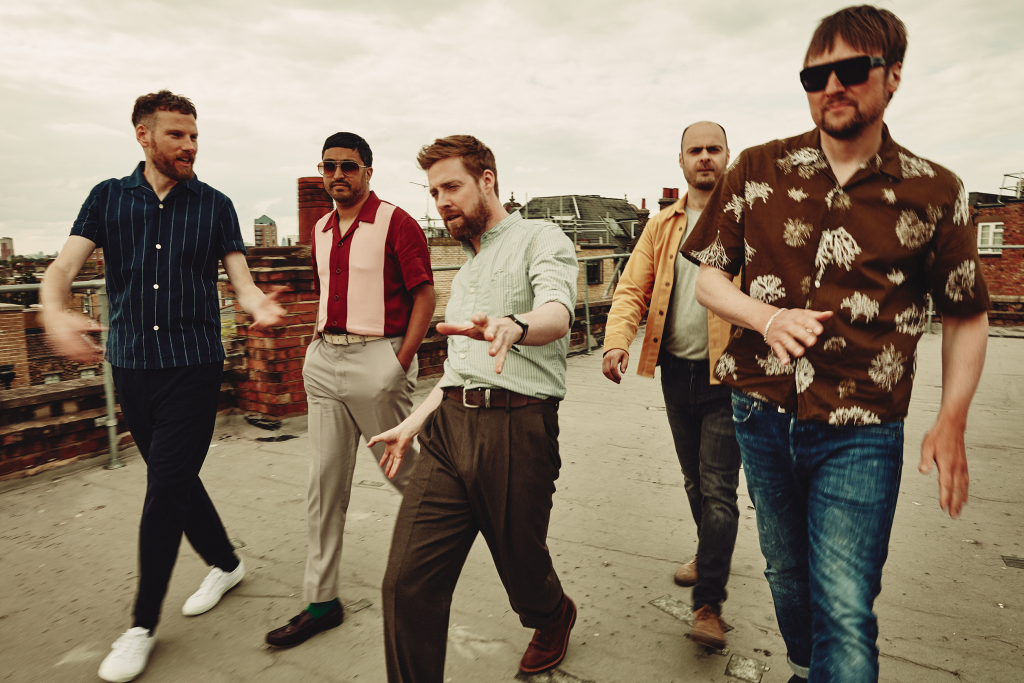 August 19, 2023
Kaiser Chiefs
Founded by secondary school friends and fervent Leeds United supporters, West Yorkshire quintet Kaiser Chiefs took their name from the South African football club of the same name, formerly home to Leeds hero Lucas Radebe.
Inspired by new wave, pop-rock and punk, the five-piece broke onto the music scene in 2005 with their debut Employment, produced by Stephen Street (The Smiths, Blur). Not only did the studio album spawn the ubiquitous hit I Predict A Riot, it also helped Kaiser Chiefs score three BRIT Awards and get shortlisted for a Mercury Prize.
Their 2007 follow-up Yours Truly, Angry Mob reached No.1 on the UK albums chart, its lead track Ruby becoming the band's first No.1 single.
Of Kaiser Chiefs' next four albums, 2008's Off With Their Heads, 2011's The Future Is Medieval and 2016's Stay Together broke into the top 10, while 2014's Education, Education, Education & War went all the way to the No.1 spot. The hits also continued to flow, including Oh My God, Everyday I Love You Less And Less, Modern Way, Everything Is Average Nowadays, The Angry Mob and Coming Home.
Alongside tours supporting their albums and countless festival appearances, the band appeared at the London 2012 closing ceremony, playing Pinball Wizard by The Who. Vocalist Ricky Wilson also became a familiar face, appearing as a coach on the BBC series The Voice from 2014 to 2016.
In 2019, Kaiser Chiefs released their seventh LP Duck, produced by Ben H Allen (Gnarls Barkley, Animal Collective). The band promoted the album with a special concert at Elland Road commemorating 100 years of Leeds United FC.
Joined by Razorlight as their Special Guests.
Indie rock quartet behind hits 'America' and 'In The Morning'.
London quartet Razorlight formed in 2002, when front man Johnny Borrell tired of the solo troubadour life and joined up with Swedish guitarist Björn Ågnen. They instantly hit on a winning formula, straddling the emerging scenes in both New York and Camden with their angular, pop-inspired indie rock and skinny-jeaned, post-Britpop cool. Between the alluring insouciance of Borrell and a surfeit of engaging hooks, the band quickly amassed a slew of hits from their 2004 debut Up All Night and it's even more successful follow-up, 2006's Razorlight. Tours with Queen and Oasis introduced the quartet to the masses and the single 'America' gave the band their first UK No.1.
Following a series of line-up changes, Borrell remained the only original member of the band and put Razorlight on hold in 2011 to focus on a solo career, returning to the group the following year to celebrate the 10th anniversary of Up All Night. Olympus Sleeping, the band's first new album in 10 years, followed in 2018.
In 2022, Borrell and long-time drummer Andy Burrows patched up their differences and announced a best of compilation (featuring two new Razorlight songs) for December 2022 and an accompanying tour set for April 2023.
Event information
Cost
General Admission – £50.00
Golden Circle – £70.00
VIP – £120.00
Location
Trentham Gardens