News
World-famous artist celebrates 10 years of success with brand new sculpture at Trentham
Trentham, in Staffordshire will be unveiling a brand-new sculpture 'Dancing with Dandelions' created by world-famous local artist, Robin Wight, to celebrate 10 years of the iconic wire sculptures which can be spotted throughout the Gardens.
The new sculpture rotates on a spherical stone finial which formed part of the original historic building at Trentham and will be unveiled on Friday 17th February, just in time for half term. To celebrate, Trentham is also re-launching its fairy trail activity with a special commemorative 10th anniversary exhibition guide and brand-new 'Fairy Quest' for children to follow and find all of the 21 fairies located in the Gardens. Visitors can also find out more about the trail by visiting the website or accessing more information about the sculpture trail by scanning QR codes on signs in the Gardens.
Staffordshire based artist, Robin Wight is the founder of FantasyWire, a family business that makes and sells fairy sculptures and magical creations. Robin has worked with Trentham for 10 years and his fairy sculptures, made primarily from stainless steel wire, attract visitors from all over the world.
The fairy trail is a wonderful way for people of all ages to experience the magic of his sculptures in a truly stunning setting. The trail also showcases the progression of Robin's work over the last decade and how his style of sculpting has evolved. The fairies are totally unique to Trentham and the only place in the world where they can be viewed this way.
Robin started his career as an engineer and then a software developer before realising a passion for sculpting and creating early works in sand and wood before moving onto the wire style he is famed for today. In 2009, whilst on a walk, Robin spotted a magical illusion created by sunlight streaming through trees which became the inspiration behind creating fairies. His works are now famous worldwide and sell for tens of thousands of pounds; some life size works have even sold for upwards of £50,000.
Robin, comments: "I can't imagine anywhere more suited to display my work than the iconic Trentham Gardens. I'm incredibly grateful for everyone's appreciation of my sculptures over the last 10 years and I can't wait to see both regular visitors and new faces enjoy the magic fairies can bring."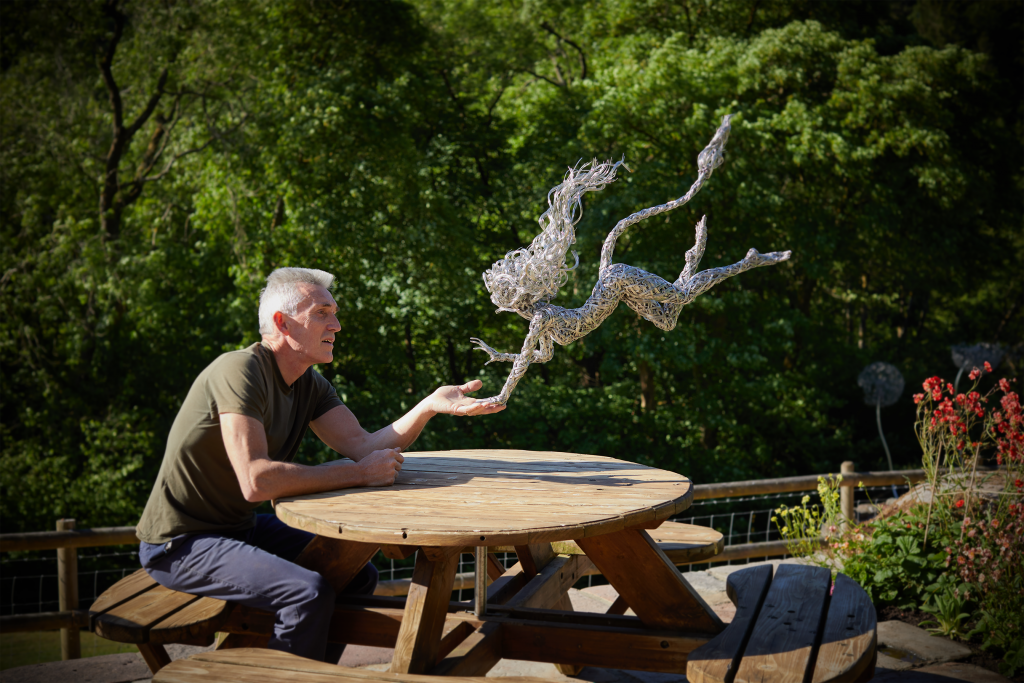 Alastair Budd, Senior Director of Trentham comments: "It's a pleasure to welcome another piece of Robin's work to the Gardens. The fairy-trail is a wonderful way for visitors of all ages to immerse themselves in the beauty of the surroundings, take a deep breath and step-away from the stresses of everyday life.
"Trentham Gardens is the only place in the world Robin's sculptures can be viewed like this, which is not only a huge privilege for us, but also a great boost for Staffordshire tourism as a whole." To celebrate 10 years of magic, Trentham is also launching a photography competition with the chance for visitors to win one of FantasyWire's large Dandelion Wish sculptures worth one thousand pounds. All visitors need to do is take a photo of a fairy sculpture in Trentham Gardens and post it on social media with the hashtags #TrenthamFairiesComp and #FantasyWire. More details about the opening date and terms and conditions to follow soon.