News
Trentham celebrates its 'indies' in run-up to Independents' Day
Trentham Shopping Village is shouting about its wide range of independent stores in the run-up to Independents' Day 2022 on Saturday 2 and Sunday 3 July. The retail village is shining the spotlight on these individual and distinctive businesses as figures suggest shoppers are falling out of love with online shopping. Trentham is giving people a reason to step away from their screens and enjoy the relaxing and varied 'offline' retail and leisure experience the Staffordshire destination is known for.
It's been revealed the proportion of online sales has broadly fallen since its peak in February 2021. The share of online sales across all retail in Britain was 27% in April 2022, a drop of almost 11% compared to the previous year. The fall in online shopping is even more dramatic for non-food retail, which has seen a decrease of almost one fifth in online sales compared to a year ago, according to the ONS retail sales report for April 2022.*
Trentham – in the heart of Staffordshire – sets itself apart from internet shopping thanks to its mix of independent retailers, big brand names, a garden centre, food and drink premises, leisure experiences, and award-winning gardens. The shopping village's 77 timber lodges house a range of shops, cafés and restaurants, offering customers the latest fashions, delicious food, home and garden products, famous ceramic names, and lots more.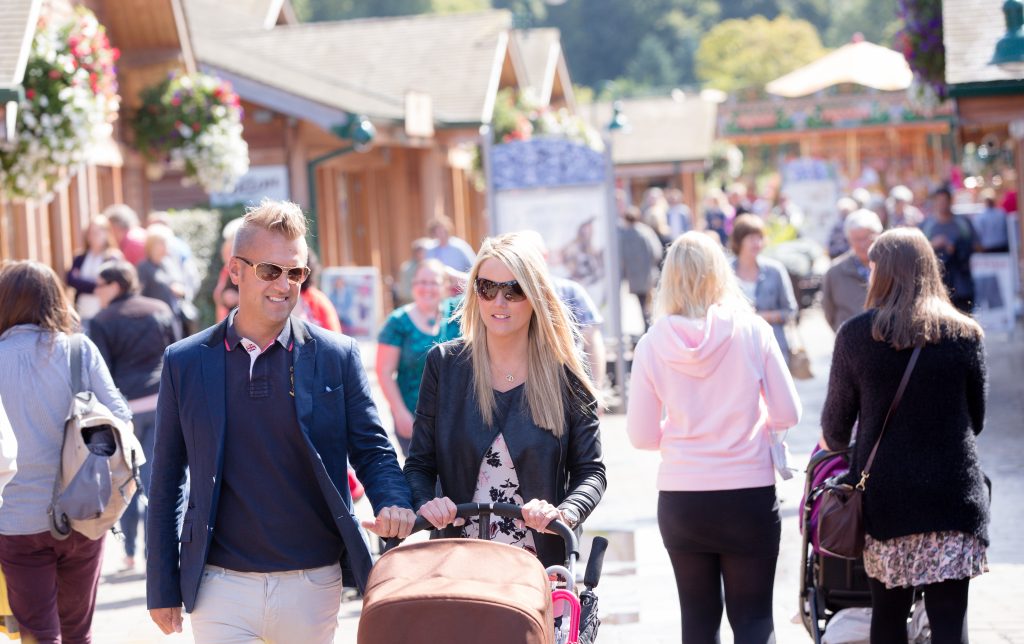 In fact, Trentham has seen an increase in people visiting both its retail village and its renowned gardens. An exit poll in December 2021 revealed 35% of people came to visit both the gardens and the shopping village – up 15% from 2019.
Independents' Day is a campaign that exists to support and promote independent retail businesses across the UK. Independents account for about 65% of the approximately 290,000 retail outlets in the UK and are at the heart of local communities.**
Among the array of independent shops at Trentham is Glazed Art, a gallery offering a broad selection of artwork from across the world. The business has been trading at Trentham for 18 years and has recently secured a 10-year lease with the shopping village.
Mark Nixon, who owns Glazed Art with his wife Sue, said: "People are looking for an experience and that's what Trentham gives them; it's also what the independent retailers give. My customers tend to come into my store in the morning, then go for a walk around the gardens, have some lunch, and come back to me in the afternoon.
"And one of the reasons my independent business is successful is because of the support Trentham gives me. Independent retail must be in a place that people enjoy visiting, which is why Trentham has got it right. People are moving away from online shopping, and with my type of business they want a personal service."
Trentham is a keen supporter of independent traders, and its regular Makers Market is proof of this. The event takes place on the third Saturday of every month, featuring an abundance of the North West's finest makers, bakers and creators. The Makers Market not only brings trade to the stallholders but increases footfall for the shopping village. The market consists of 115 stalls and 172 entrepreneurs with a total of 229 jobs helping to bring the community together and showcase enterprise.
Gareth Hine, Asset Manager at the Trentham Estate, said: "Independents' Day is the perfect time to shout about our wonderful range of independent stores. These interesting, highly-individual businesses are a key part of what makes Trentham so special – and why families travel here to enjoy our leisure and retail destination.
"And we're delighted to have agreed a new 10-year lease with Glazed Art, a business that shows exactly why independent stores help to make our retail village such a vibrant and interesting place. Our other fabulous 'indies' include The Glass Box, Cooks of Trentham, Cornerstone Jewellery, Doggie Fashions and A Major Music Supplies, to name a few.
"People love shopping 'offline' at Trentham, where they can enjoy a relaxed and varied retail experience, along with a choice of fantastic eateries and the opportunity to explore our glorious gardens. After all, you don't get this type of retail experience simply by scrolling through endless websites."
*Source: https://www.ons.gov.uk/businessindustryandtrade/retailindustry/bulletins/retailsales/april2022
**Source: https://www.independentsdayuk.org/