Guest Blog
Memories that last a lifetime
The end of term for many parents is a sigh of relief; a chance to spend quality time together. For others, it's shear panic worrying how we can keep our little ones busy over the next six weeks. For me, @themummythateats, it was a bit of both. I love the idea of creating lots of special memories however the thought of coming up with an entire 6 weeks schedule is daunting. We're so grateful to have a whole host of local businesses at our doorstep, especially the picturesque Trentham Gardens. We have visited millions of times but it's still a firm family favourite for us.
Our latest memory of Trentham was our recent Sunday visit when we brought along Sophia's (our daughters) grandparents. As well as our usual stroll, play on the fantastic park and admiring the stunning view, we decided to climb aboard the Trentham Fern Miniature Train and opted for the Beaver Activity Pack. I have to say that both activities are worth the extra money in their own unique way. We don't always opt for the activities, however, Sophia had an excellent school report so we decided to celebrate in a way we knew she'd love.
Beaver Activity Pack
I love that activity trails are a way to help children to take notice of their surroundings, something that we don't do a lot of as adults. The great outdoors is the one place that you can guarantee people (myself included) won't be glued to our phones.
For £4, you'll receive a jam-packed booklet filled with educational beaver facts, activities and fun to keep the kids entertained whilst walking around the lake. The pack included a load of colouring pencils which I must say came in handy later in our adventure. Before we started walking, we went to grab some food to refuel, familiarise ourselves with the booklet and we were soon ready to begin our quest.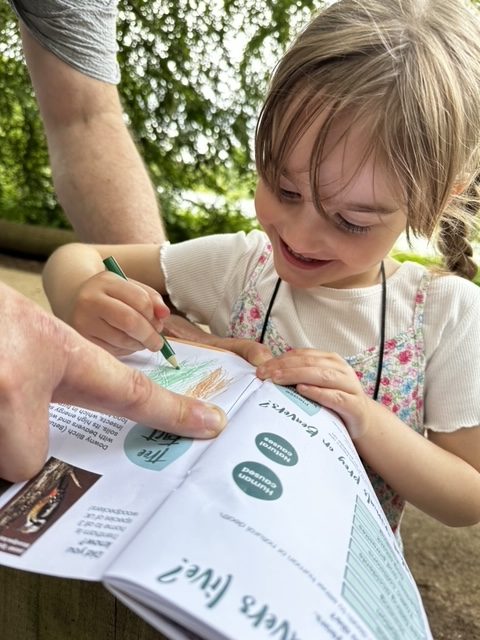 The booklet contained an easy-to-follow map with locations for different rubbing plates. Sophia and her grandad were laughing and competitively racing along to each post as they traced over different patterns together. I don't know who was more worn out. Sophia decided to choose a different colour for each plate and found lots of bugs waiting on top to say hello. Much to our surprise, the beaver activity pack encouraged Sophia to walk 2+ miles without a single peep of fuss. It's always lovely watching your child having so much fun, who'd have known a rubbing plate would bring so much joy. There was also a word search and a plant spotting activity within the booklet to keep the kids on track.
Trentham Fern Miniature Train
During our many visits, we often passed children smiling and waving whilst riding on the train and it was finally our turn. We travelled in style as we were all-aboard the train alone, this was great, and we felt like a 'proper VIP'. We really enjoyed the £2.50pp short train ride as it took us up and down part of the lake. We were able to take in the boats floating across the water and the wildlife flying by.
We also brought along Sophia's toy binoculars so that she could continue the theme of exploring. She loved taking in the view through her little lenses. Despite not being totally convinced that they worked, Sophia was adamant that she was able to see space from peering over the lake.. and we believe her, right?
Sophia certainly left Trentham feeling extremely happy. I'm also really glad we paid extra for the train ride and the beaver activity pack as an extra special little treat. After hearing Sophia's grandparents reminisce of their childhood at Trentham, our recent visit unlocked a new core memory that will stay with us.
Hearing snoring in the back of the car during the journey home was a sign of a busy yet enjoyable day. If day one of the holidays looked like this, I think we're in for a fabulous summer.
The Mummy That Eats
Name: Carly Outerbridge
Instagram: www.instagram.com/themummythateats/
Website: www.themummythateats.com