News
Trentham's magical Spring Bulb Festival will smell as good as it looks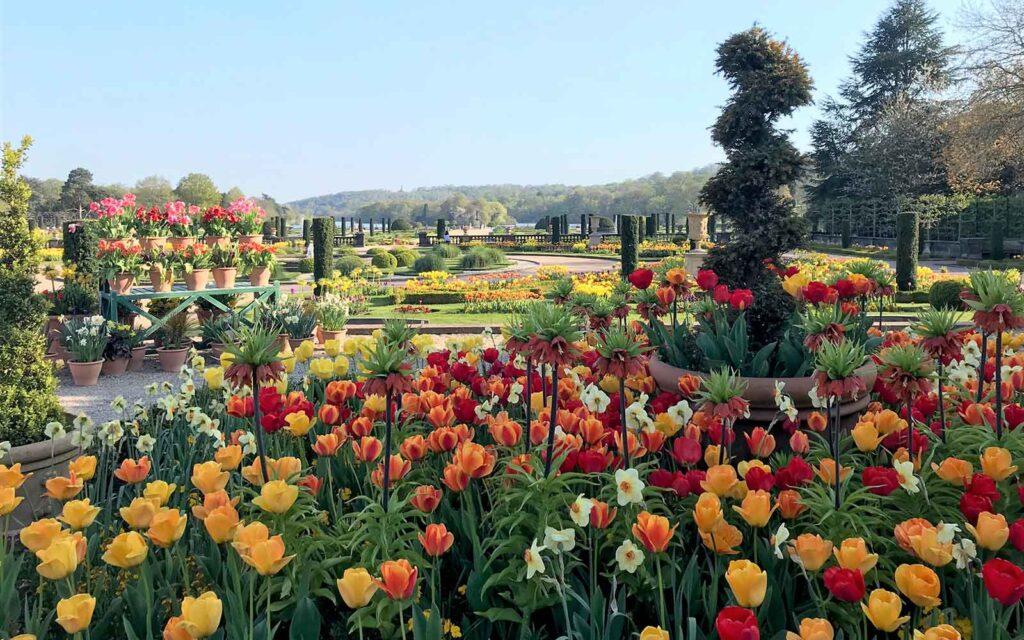 Award-winning Trentham Gardens was a riot of colour for its first-ever Spring Bulb Festival in 2019, and for 2020 one of England's most visited paid-for gardens is promising an even bigger display with thousands of extra bulbs.
And while spring colour has always been in vogue at Trentham, for 2020 it's also going to be about the fragrances.
Hot colours will definitely be 'in' – yellows, reds, and psychedelic pinks; but fragrant flowers and scented shrubs will fill this Staffordshire garden with the sights and smells of spring.
Trentham's talented team of gardeners have been busy throughout autumn adding more than 130,000 extra bulbs, including another 26,000 bulbs in the Upper Flower Garden displays, and 27,000 bulbs to the 'Sunny Meadows' perennial mix – along with new 'hanging basket' boat displays to extend the blaze of colour up to, and into, the picturesque mile-long lake.
Combined with the 50,000-plus bulbs planted for the 2019 Festival, the colour palette of pot and flower bed displays will see Trentham, on the edge of Stoke-on-Trent, spring to life like never before in 2020.
New 'Making Memories' photo points will appear around the gardens too, including a giant wooden chair – surrounded by pots of different coloured flowers as the season matures – offering a 'living' photo frame for family snaps, with special arrangements for Mother's Day and at Easter.
Trentham's famous fairy sculptures will also be joining in the fun, with 'Tranquil' surrounded by 700 bulbs planted into the grass around her sunbathing area, and 'Shakey' set to rest among a 'bed' of 450 new bulbs at the South Jetty.
Tulips in a whole range of colours will, of course, be among the stars of the show, but other highlights will be new displays in the Rose Border and Trellis Walk. Gardeners have added to the permanent planting in the Rose Border, which now boasts 5,000 spring and early summer flowering bulbs, while more than 12,000 bulbs will be planted in British manufactured pots to create the highly popular 'pink walk'.
For the Perseus Walk, more than 13,000 bulbs, combined with spring bedding and foliage perennials, will provide an even richer colour palette than 2019. In addition, benches will be surrounded by pots filled with scented and colourful displays, offering the perfect spot for visitors to sit and enjoy views across the lake, woodlands and the Italian Gardens.
Following last year's trial of planting up rowing boats on the Capability Brown-designed lake, 2020 will see double the number of boats to create bigger, bolder displays in front of the striking lakeside Perseus statue.
Adding the fragrance of spring will be sweetly scented Narcissus and Hyacinths planted into the Balustrade borders to create a permanent spring display, alongside 2,000 bulbs in pots banked on the Balustrade Steps. Fragrant floral displays will also add a splash of spring colour and scent to the platforms of the Trentham Fern's railway stations, while the acclaimed Rivers of Grass will have new displays of the polka-dotted Fritillaria meleagris.
As well as creating dazzling displays, Trentham hopes the Bulb Festival will also inspire visitors to create their own displays too, with bulbs zoned in different colour palettes to offer ideas to try at home.
Ends
For all media information, photo-opportunities and images, please contact Grant Mantle.
Tel: 01782 657341. E-mail: gmantle@trentham.co.uk
Notes to editors:
The Trentham Estate, on the edge of Stoke-on-Trent, Staffordshire, offers one of the UK's most diverse days out with a range of leisure activities for all ages.
It is one of the country's top leisure destinations, attracting more than 3.2m visitors per year and was awarded a Gold Accolade by VisitEngland in February 2018 in recognition of the quality visitor experience offered. The fabulous restored Trentham Gardens at the heart of the Estate attracted over 730,000 visits in 2018 – making them one of the most visited gardens in the UK. Owned and managed by St. Modwen, the expert developer and regeneration specialist, the 725-acre Estate, which was previously owned for over 400 years by the Dukes of Sutherland, has undergone a massive regeneration programme since 2003. The Estate boasts: The famous Trentham Gardens, including the very important Italianate Gardens designed by Charles Barry in the 1830s that have been lovingly restored using top landscape designers. The gardens feature the UK's first 'barefoot' walk, a great children's adventure play area and maze and a beautiful walk around the mile long lake, originally laid out by Lancelot "Capability" Brown in the 18th Century. The Trentham Garden Centre and expanded Shopping Village, an eclectic mix of shops and eateries with a 119-bedroom Premier Inn Hotel. Trentham Monkey Forest – a unique opportunity to walk amongst 140 free roaming Barbary macaques, in a natural woodland environment for this endangered species. Extensive woodlands.