Nature & Wildlife
New Homes for Nest Builders
It's not just St Modwen Homes that are busy creating new des res' …the team have been scaling new heights, preparing new sites for our resident and migratory birds here at Trentham Estate.
In recent weeks we have been installing new Barn Owl nest boxes. It's very much Location, Location, Location as we position our 6 Barn Owl nest boxes around the 300-hectare estate.
On the prospective residents wish list:
A large, single tree, strong trunk. No neighbours.
Excellent local take away (open meadows) Menu: Bank Voles, Field & Harvest Mice, Shrew, worms & beetles.
Open views of /from meadows.
Three metres+ above ground.
Adjacent branches for fledging youngsters to perch upon when moving out.
One mile from busy roads unless well screened by trees.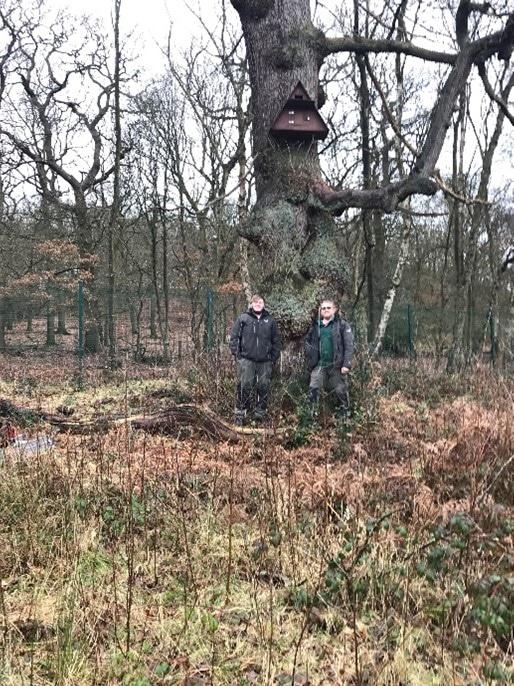 This circa 450-year-old oak is Number one West Park and has far-reaching views across the Brownian Deer Lawns and Italian Gardens and sits close to meadows where Barn Owls have been spotted hunting at twilight.
This is part of our Spring 2021 Biodiversity Focus, targeting the provision of specialist nest facilities for at-risk bird species that breed at Trentham. In 2018 our teams installed 100 specialist nest boxes, which also needed a spring clean to remove old nests ready for the new season. Our specialist boxes are installed three – five metres up trees in Kingswood SSSI. These took a bit of finding, but we are now using the app what3words on our mobile phones to pinpoint their locations, helping us to monitor their use and maintenance.
Since we installed our specialist boxes, the distinctive Pied Flycatchers have returned to nest. Annually only 17,000-20,000 pairs breed, so this species has been given a red (at risk of extinction) categorisation. The UK is a critical habitat for these small birds who fly to Western European ancient oak woodlands every Spring. Reliant on the habitat's insects as food and Lesser Spotter Woodpeckers who can create nesting sites for these birds.
We were very excited to see the photos shared by one of our wildlife photographers who observed a male Redstart with a beak full of food last summer, indicating he was feeding a nest of young. A real rarity for a site so close to an urban conurbation. Redstarts have a UK Amber Conservation status, so it is great to see these.
Because these two special birds arrive in April, after many other bird species have begun to nest, we block the boxes' entrance holes until we see the migrant birds arriving. Metal doorway plates are also installed to protect the boxes from damage by Greater Spotted Woodpeckers and Grey Squirrels.
You can support bird conservation by:
Keep quiet and stay back from nests and active boxes as you may cause adults to desert the nest.
Please keep dogs on short leads; we have ground-nesting birds in our meadows, Heathland and Woodlands e.g. Lapwing, Curlew, Skylark and Woodcock.
Share your bird sightings with us using #TrenthamGardens #TrenthamEstate