News
New gallery puts the "art" into leading Heart of England attraction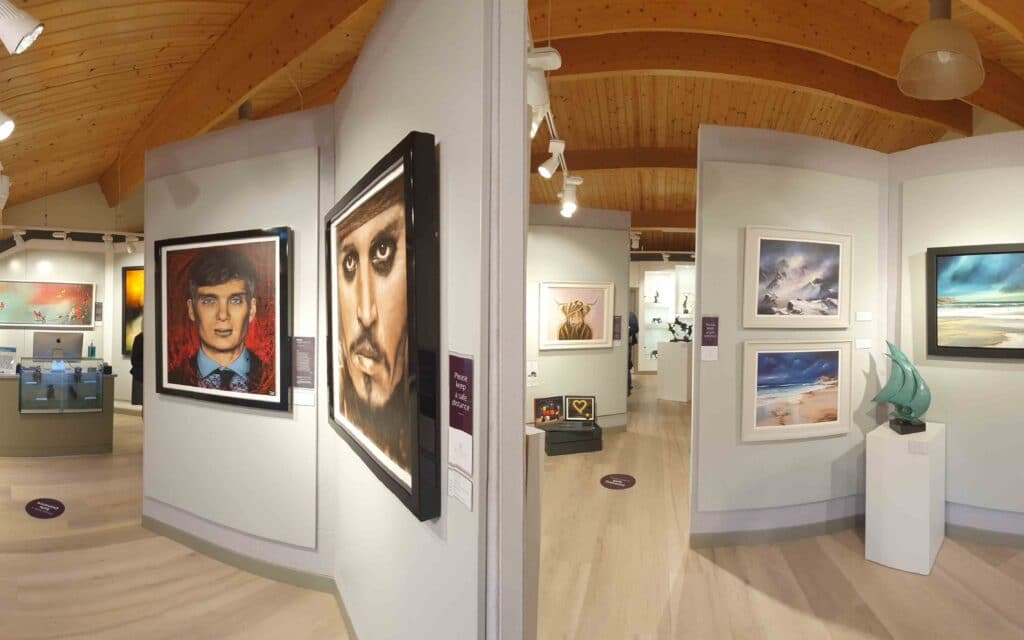 Art has always played an important role at The Trentham Estate. So there is something especially fitting to hear that the latest shop to open its doors within the popular Trentham Shopping Village is Atelier Galleries – part of the Lichfield-based DeMontfort Fine Art Group.
Atelier Galleries Trentham, which opened earlier this week, will now exhibit and sell artwork by some of the most popular international artists of the moment, showcasing everything from original oil paintings and canvas limited editions, to contemporary 'metalworks' and bronze sculptures.
Their award-winning portfolio includes famous international names, ranging from L.S.Lowry to the figurative expressionist American painter Todd White. Todd himself has become something of a favourite with international collectors as well as US celebrities, including Sylvester Stallone and Vin Diesel, having started as the character creator for hit Warner Bros animation Sponge Bob Square Pants.
Atelier are continually sourcing new talent to ensure their walls remain fresh. Gallery Manager, Julie Brant, explains, "If you have a wall, a room, or even an entire house that needs to be brought to life with artwork, discussing ideas and possibilities with an expert can help to clarify what you are looking for. We're always delighted to meet new faces, first time buyers and serious art collectors; and Trentham itself is so different to the regular high streets. Its location and profile gives us an opportunity to play a role in offering visitors to this popular Shopping Village something entirely different".
On the day it opened to the public, Atelier Gallery Trentham also announced that they would be running a special introductory offer of £100 off a first purchase throughout the month of October.
Atelier Galleries is one of several high street brands operated by De Montfort Fine Art, and is described as one of their more intimate spaces, better suited to being in locations away from the more 'traditional' high street.
Management at The Trentham Estate are also delighted to be bringing yet another new shop into its Shopping Village – which has already seen the recent opening of a trio of new shops: The Portrait Lounge; The Beauty Outlet; and Peak Pursuits.
Marie Legeckis, Centre Manager added, "We're thrilled that Atelier have chosen to open at Trentham Shopping Village, with regular visitors recognising the name thanks to their work with The Original Art Shop, who we also want to wish well in their retirement. They bring a truly fantastic collection of artists to Trentham, as well as an expert team who will be delighted to provide a helping hand".
Ends
For all media information, photo-opportunities and images, please contact:
Grant Mantle
Tel: 01782 657341
E-mail: gmantle@trentham.co.uk
Notes to editors:
The Trentham Estate, on the edge of Stoke-on-Trent, Staffordshire, offers one of the UK's most diverse days out with a range of leisure activities for all ages. It is one of the country's top leisure destinations, attracting more than 3.2m visitors per year and was awarded a Gold Accolade by VisitEngland in February 2018 in recognition of the quality visitor experience offered. The fabulous restored Trentham Gardens at the heart of the Estate attracted 837,500 paid visits in 2019 – making them one of the most visited gardens in the UK. Owned and managed by St. Modwen, the expert developer and regeneration specialist, the 725-acre Estate, which was previously owned for over 400 years by the Dukes of Sutherland, has undergone a massive regeneration programme since 2003. The Estate boasts: The famous Trentham Gardens, including the very important Italianate Gardens designed by Charles Barry in the 1830s that have been lovingly restored using top landscape designers. The gardens feature the UK's first 'barefoot' walk, a great children's adventure play area and maze and a beautiful walk around the mile long lake, originally laid out by Lancelot "Capability" Brown in the 18th Century. The Trentham Garden Centre and expanded Shopping Village, an eclectic mix of shops and eateries with a 119-bedroom Premier Inn Hotel. Trentham Monkey Forest – a unique opportunity to walk amongst 140 free roaming Barbary macaques, in a natural woodland environment for this endangered species. Extensive woodlands.