News
It's good 'moos' for nature at Staffordshire's Trentham Estate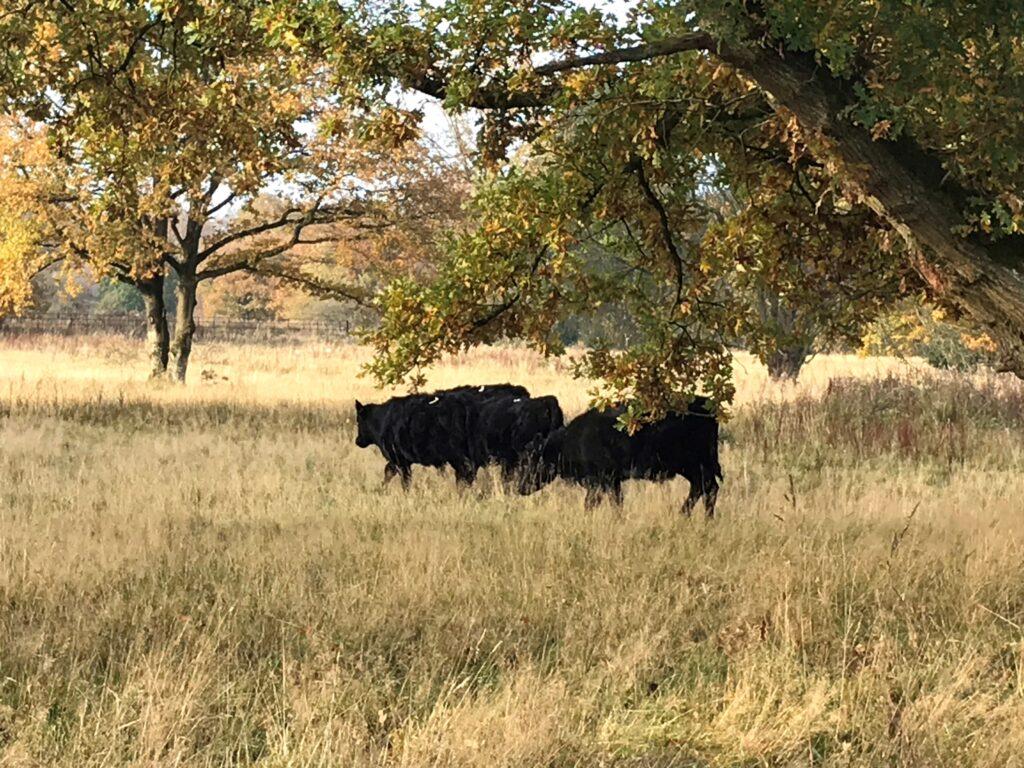 Four Aberdeen-Angus cattle have joined the parkland teams at the Trentham Estate to help restore and maintain heathland and woodland pasture at the popular visitor attraction.
Home to formal gardens, including the famous Italian Gardens, and Capability Brown landscaped parkland, Trentham also manages 86 hectares of at-risk woodland pasture and over nine hectares of at-risk lowland heath habitat.
And as well as a hard-working specialist estate team, Trentham – on the edge of Stoke-on-Trent – has turned to the animal world to help maintain landscapes the natural way.
Lending a helping 'hoof' is a range of livestock, which play a vital role in managing the heath and woodland areas.
Trentham already uses British rare breed livestock including Hebridean, Jacob and Herdwick sheep, which not only allows more natural land management, but also helps to conserve the genetic pool of these threatened species.
Now the new Aberdeen-Angus cattle have arrived at Trentham to play their part too.
They will be roaming lower North Park, grazing the woodland pastures to help clear non-native invasive plant species, such as Himalayan Balsam, and creating a mosaic of tussock grasses, native wildflowers and thickets of bramble and thorn.
After their work is done there, the cattle will move onto the lowland heath, which is one of a number of habitats Trentham is currently working in partnership with Natural England to restore and enrich.
Having been cleared of commercial non-native conifers in 2014, the planned restoration of the lowland heath is developing well with a broad range of heathland plants including heather, lichens, mosses and specialist grasses now re-establishing there. The cattle are able to control the gorse and birch regeneration, and control non-native invasive plant species such as Himalayan Balsam, far more sustainably than manpower or machinery.
However, roaming livestock and wild fallow deer herds mean that visitors walking their dogs are asked to keep their pets on leads in those areas of the park, to avoid injury or distress to the animals.
Pets must also be kept on a lead on all areas of the Estate, although Trentham does offer dog walkers a specially designated 'Dogs off lead' area, in the meadow adjacent to Park Brook, which is accessed from Park Drive at the northern end of the Estate.
Monument Woodland is also currently closed to public access to allow sheep to safely graze this area and for conservation work and pathway repairs to be undertaken.
However, there is still access to Spring Valley and Kingswood for long ridge walks or around Monument Field adjacent to the South Entrance carpark for short or long-distance walks, with signage giving details.
And as people enjoy time in the 'Great Outdoors' for their exercise during lockdown, walkers are urged to be extra vigilant about dropping litter, particularly face coverings, which pose a very real choking hazard to wildlife.
For more information, see www.trentham.co.uk.
Ends
For all media information, photo-opportunities and images, please contact:
Grant Mantle. Tel: 01782 657341. E-mail: gmantle@trentham.co.uk
Notes to editors:
The Trentham Estate, on the edge of Stoke-on-Trent, Staffordshire, offers one of the UK's most diverse days out with a range of leisure activities for all ages.
It is one of the country's top leisure destinations, attracting more than 3.2m visitors per year and was awarded a Gold Accolade by VisitEngland in February 2018 in recognition of the quality visitor experience offered. The fabulous restored Trentham Gardens at the heart of the Estate attracted 837,500 paid visits in 2019 – making them one of the most visited gardens in the UK. Owned and managed by St. Modwen, the expert developer and regeneration specialist, the 725-acre Estate, which was previously owned for over 400 years by the Dukes of Sutherland, has undergone a massive regeneration programme since 2003. The Estate boasts: The famous Trentham Gardens, including the very important Italianate Gardens designed by Charles Barry in the 1830s that have been lovingly restored using top landscape designers. The gardens feature the UK's first 'barefoot' walk, a great children's adventure play area and maze and a beautiful walk around the mile long lake, originally laid out by Lancelot "Capability" Brown in the 18th Century. The Trentham Garden Centre and expanded Shopping Village, an eclectic mix of shops and eateries with a 119-bedroom Premier Inn Hotel. Trentham Monkey Forest – a unique opportunity to walk amongst 140 free roaming Barbary macaques, in a natural woodland environment for this endangered species. Extensive woodlands.