Nature & Wildlife
If You Go Down to the Woods Today …
Our garden restoration works at Trentham give new visitors a surprisingly contemporary display.
We have recently focused upon the landscape created in the Georgian period by landscape designers Charles Bridgeman and then Lancelot 'Capability' Brown. Based around the mile-long lake, adjacent parkland and River Trent the project has created a series of meadows designed by Professor Nigel Dunnett. His pioneering approach to planting design focuses upon creating bold immersive schemes with dramatic use of colour, texture and form, whilst employing ecological approaches which address the major problems of climate change and environmental sustainability. Nigel has travelled the world, studying the character of wild vegetation and translates this into plantings that combine native wildflowers with garden favourites to create schemes that provide year-round interest for the public as well as rich biodiversity.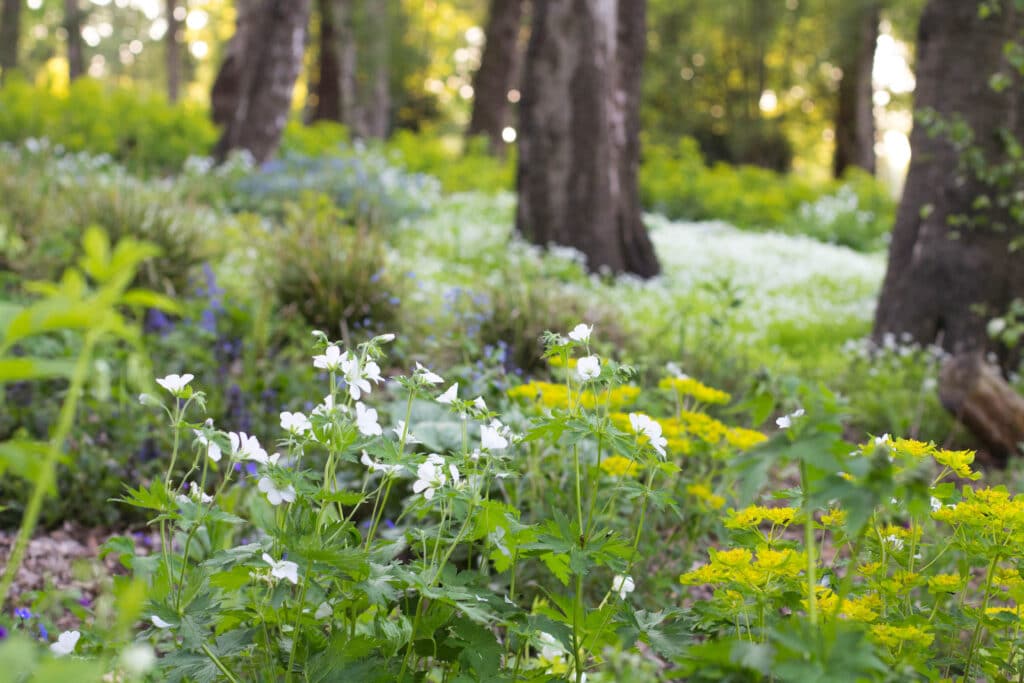 The Challenges:
Clearance of 6 hectares (6 Rugby pitches) of invasive Rhododendron ponticum from Burkes Wood in 2013. The woodland had lost much of its biodiversity following the oppressive years of non-native Rhododendron dominance which smothered native bulbs and regeneration of trees and wiped out feeding and breeding opportunities for many species of wildlife as illustrated in this Google Street View of the walk pre-restoration works starting.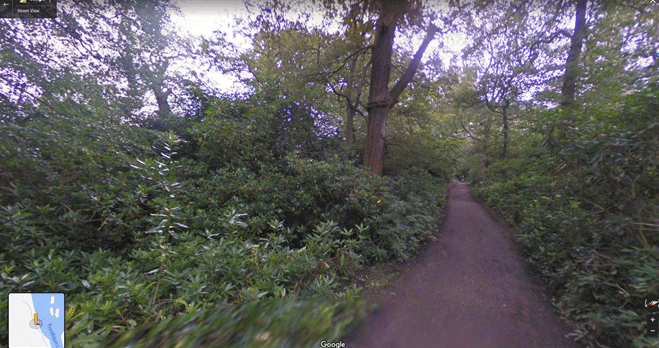 Removal of forestry plantations of commercial conifers and self-set sycamore, alder, birch and larch on the lake margin have restored the views across the landscape which were envisaged in Capability Brown's vision.

A sustainable approach to sourcing and utilising materials with a focus upon carbon footprint reduction, biosecurity, supporting UK horticultural industry and local or regional suppliers.
The Burke's Wood and Woodland Meadows
The vision is to create a significant additional feature to Trentham by creating a coherent and linked garden experience based around the central lake. It is dedicated to the commitment of Steve Burke who sadly passed away in March 2017. Steve was St. Modwen's Group Construction Director and instrumental in all of St. Modwen's major regeneration projects in his 22 years with the company.
The lakeside woodland presented an opportunity to create a new type of UK woodland garden that would reflect the landscape's historical significance yet be bold and contemporary. Our approach is unlike the traditional historical approaches used to create woodland gardens seen around the UK, which are usually plant collections of trees and shrubs, with small numbers or individual specimens of a large range of different species and cultivars which often have a congested and enclosed feel.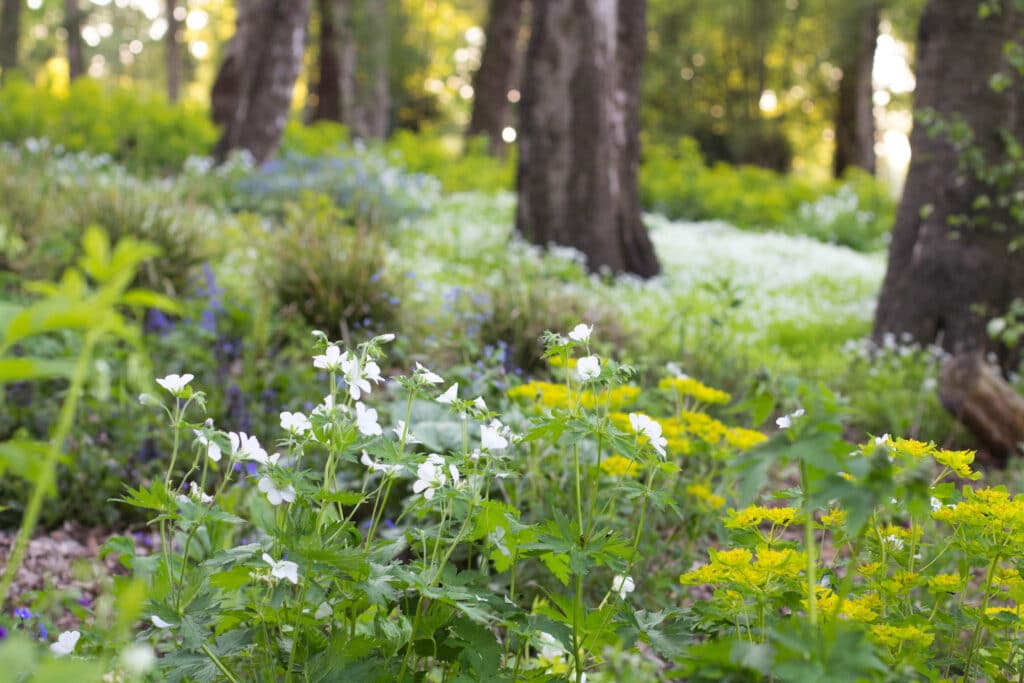 The scheme is:
Based on large-scale and dramatic visual displays, with large numbers of a restricted range of species and cultivars including many native species.
Focused on the herbaceous and ground layer, with well defined 'garden rooms' with their distinct character which has supported the emergence of dormant ancient layers of bluebells and wood anemones.
New tree planting in the form of large scale groves of the same or similar species, with a significant focus upon autumn tints and tones.
Taking into consideration the unique character of the landscape, soils, microclimates and the impact of climate change and the need for management techniques using sustainable methods. Promoting biodiversity, supporting pollinators and reducing the environmental impact of works was key.
Woodland Meadows on a grand scale!
Inspired by the scale of Capability Brown's C18th naturalistic landscape works, Nigel Dunnett's pioneering woodland meadow plantings are being added in phases along the western lakeside walks. Started in 2016, today it contains 70,000 perennials planted in curved ribbons of colour-themed mixes inspired by North American Woodlands. Designed to climax in spring whilst giving all-year-round interest.
The site was cleared of non-native invasive weeds. Fallen dead wood was retained as a key character and vital habitat, with the adjacent SSSI woodland sharing some of its rare species of wildlife with the gardens veteran tree stock. The principle of mulching to minimise rootzone disturbance to existing trees, whilst inhibiting germination of Himalayan Balsam and overcoming the layer of Rhododendron humus, was our best option. Composted green waste locally sourced, processed from domestic waste from local councils.
Planting of perennial meadows has been carried out replacing two-litre planting with nine centimetre and bare root material to minimise haulage impacts from UK suppliers, in addition to reduced reliance on irrigation before planting. Large stands of perennials sourced from the garden are also being transplanted to create backdrop plantings on a dramatic scale, beyond the detailed matrix plantings.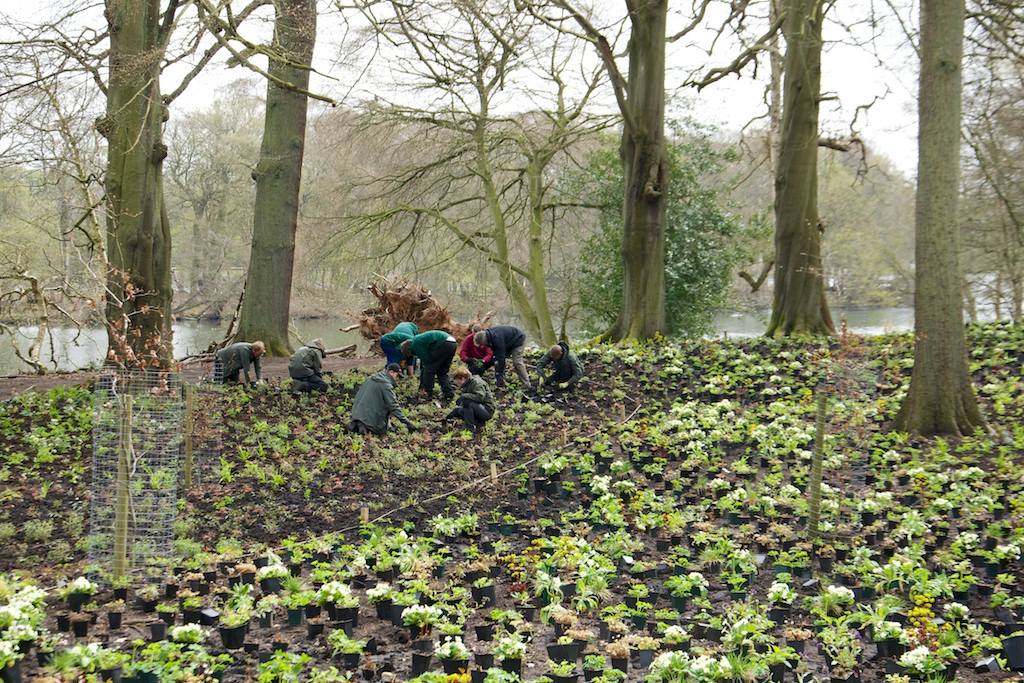 Plants were placed at densities ranging from three – fifteen plants /m2 and then planted by our team of gardeners and garden volunteers. Many teams from international and UK private and charitable gardens have visited to learn from our experimental techniques.
Each plants position was informed by soil hydrology, light levels, ultimate scale, growth habit and aesthetic qualities: creating rhythm, structure and colour or textural associations. Each mix (of 8) contains up to 20 varieties of plants combining species with cultivars enabling this cultural and artistic approach. Further bulb underplanting will be added to enhance the diversity as the area develops.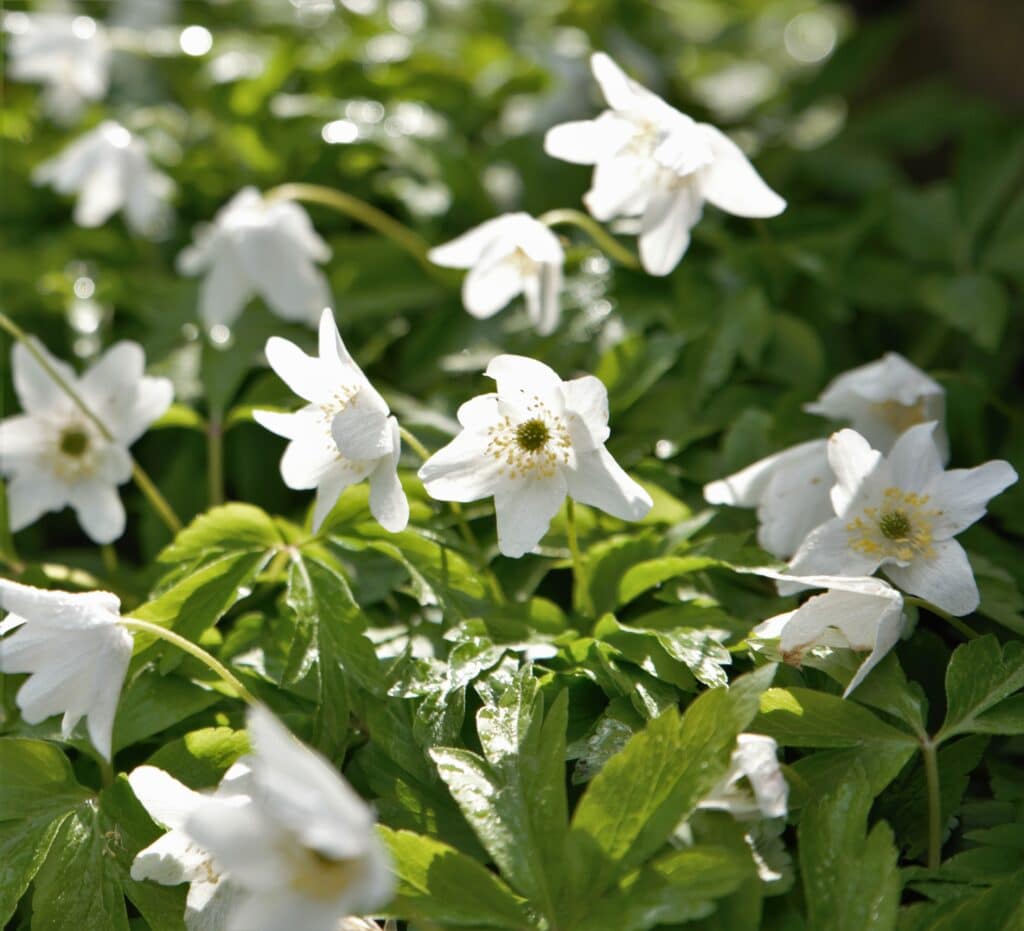 Pots and trays were recycled with suppliers or donated to schools for gardening projects. Staff and volunteer training on cultural control methodologies with targeted weeding, varying approaches to deadheading, self-seeding, cutbacks and localised mulching. Water use is minimalised through the timing of plantings to take advantage of seasonal rainfall and impact of canopy cover and use of small plants and growing media.
Magnolia Groves
Along Brown's original drive over 700 magnolia trees have planted since 2015 in "naturalistic stands" of large single-species groups. 28 varieties of blossom from February into late spring in shades of white, pink and claret red. Recommended selections by Jim Gardiner, national magnolia expert and RHS ambassador, and plant material propagated, and contract grown locally by specialist nurseryman John Ravenscroft. Planted in bold groups of 10-50 of just one variety and close together to create natural glades of a scale seldom seen, and unique in terms of modern plantings. Within 9 years of planting the flowering display should be notable, and ultimately, they will reach 10 meters tall when their impact will be stunning. We intend to add spring bulbs and naturalistic drifts of perennials to these groves.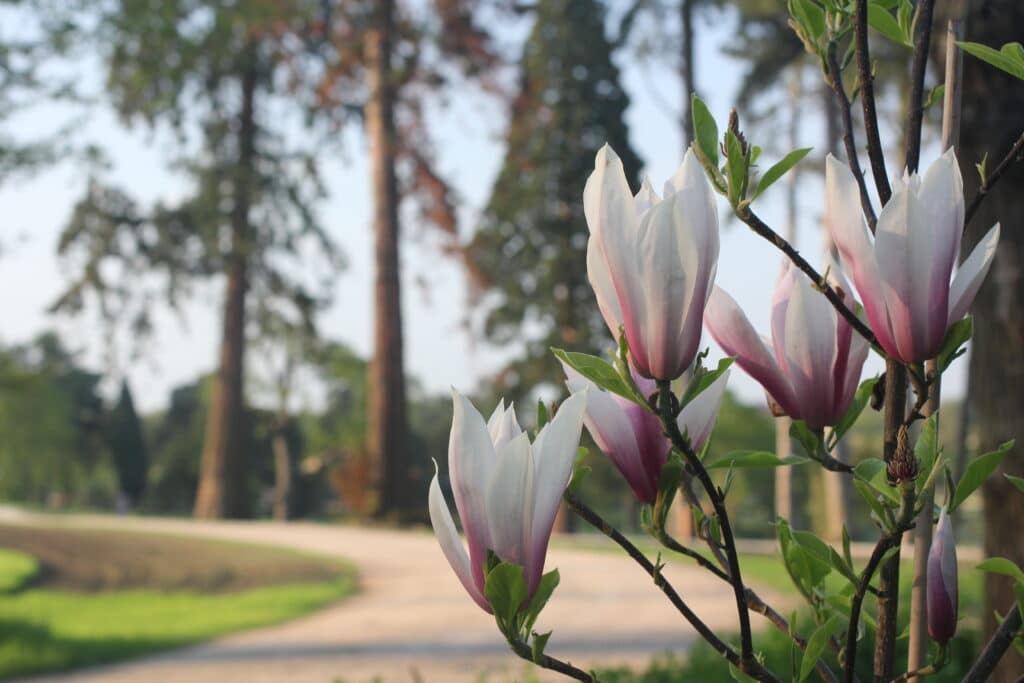 Stunning Shrubs The zig-zag walk connects the lakeside path with the Magnolia Walk. The planting here at Trentham is the first of its kind in the UK, an understory of 400 witch-hazels, (Hamamelis inter. 'Arnold Promise', H. 'Jelena', H. 'Westerstede', H. 'Pallida') planted in naturalistic single cultivar groves with 70 Daphne bholua 'Jacqueline Postill' and 100 Winter Sweet (Chimonanthus praecox). The richly scented winter flowering shrubs will create a new 'perfumed walk' rich in early season nectar, further enlivened with drifts of thousands of spring-flowering bulbs and naturalising ferns.
A further dramatic understory shrub layer ultimately achieving 15 m tall, has been added to define the northern end of Burke's Wood with 100 Spring Flowering Dogwood. We have selected a limited number of varieties including the wedding cake tree 'Cornus controversa' combined with Cornus kousa 'Eddies White Wonder', Cornus 'Norman Haddon', Cornus kousa chinensis and Cornus chinensis 'Milky Way', selected for their spectacular white flower bracts, distinctive growth habit and bold autumn foliage and fruits as well as hardiness and observed reliability against succumbing to diseases following consultation with several UK gardens and experts.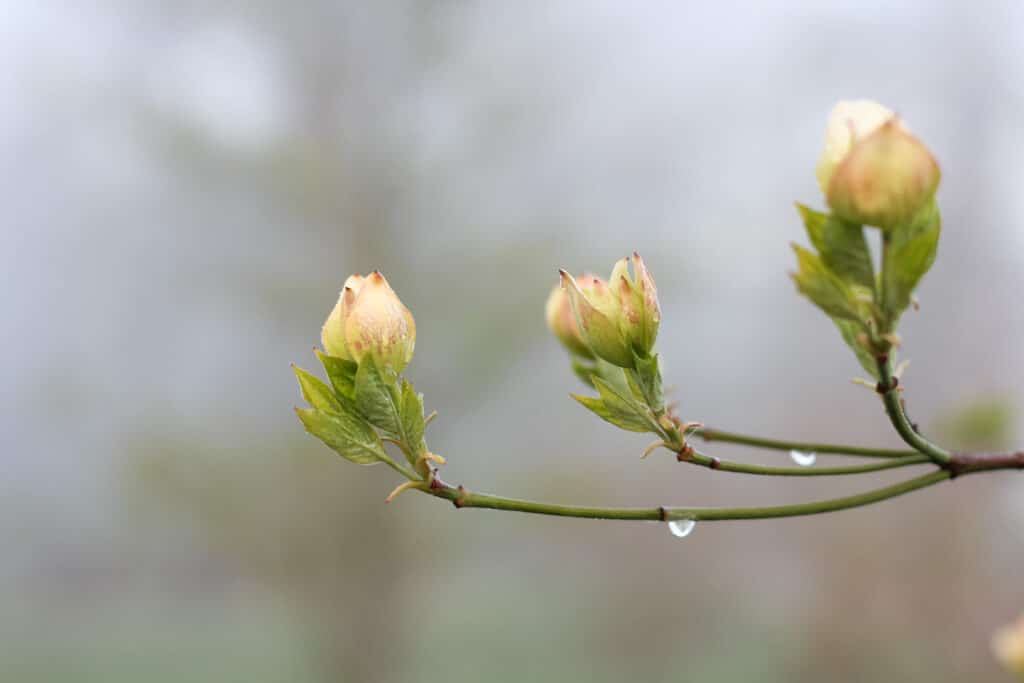 We will share further insight into our woodland walks at Trentham over the next month as part of the Tree Councils celebration of the benefits of woodland walks in May for both visitors and biodiversity.