News
Escape the "everyday" autumn experiences at The Trentham Estate… …and stop to smell the candyfloss!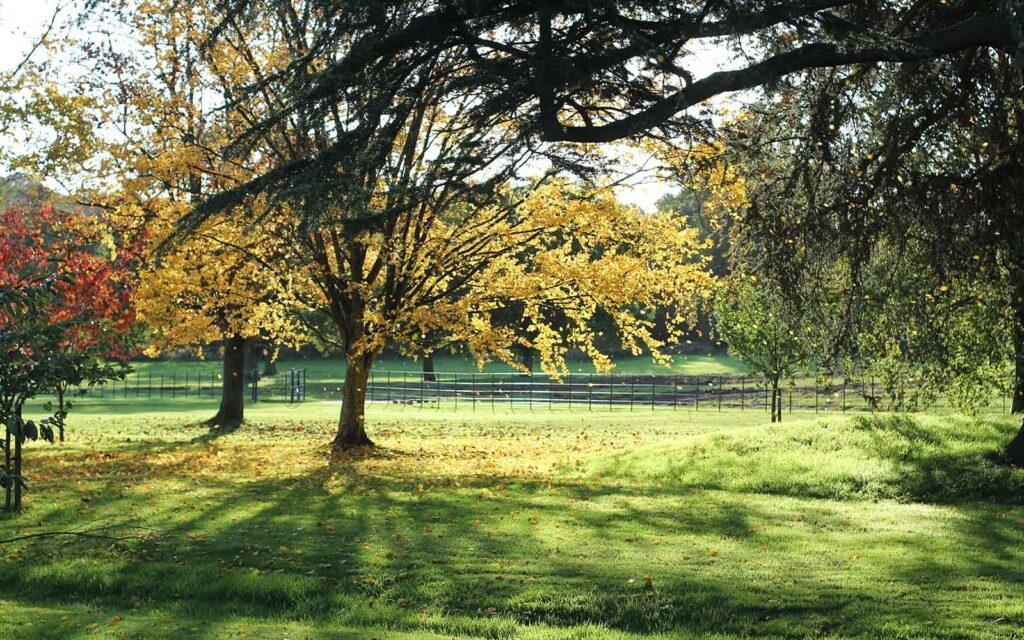 Trentham's award-winning, and historically significant, gardens can offer themselves up as one of the finest places in the UK to experience autumn: and to take-in the sights, sounds … and smells of this seasonal spectacle.
Because it's here, deeply immersed in the heart of Staffordshire, and on the edge of Stoke-on-Trent, that beautiful autumn colours can be seen; that huge flocks of finches drawn to the woodland and pictorial meadows can be heard; and (possibly most unusually of all) that the remarkable candyfloss scent from what is believed to be the UK's largest grove of the Katsura Tree, can be smelt.
An all year round attraction – closing only on Christmas Day – the gardens offer visitors a different experience each season, whether spring, summer, autumn or winter.
Boasting Capability Brown parkland, woodland walks, a mile-long lake and eye-catching gardens, Trentham has long offered a colourful spectacle for autumn, between late September and early December.
Stretching over more than 700 acres and set in a valley, Trentham enjoys big skies and open vistas, with a dramatic "floor to ceiling" range of autumnal colours reflected in the lake, creating a photographer's dream.
But annual innovations, and continued planting, mean that autumn offers visitors to Trentham Gardens so much more, with 2020 currently being tipped to be amongst the best yet for anyone looking for autumnal colours, mindfulness walks, or simply a chance in these troubled times to reconnect with Mother Nature.
Along with a stunning seasonal display from native and North American oak trees, beech trees, Tulip trees with butter yellow foliage (whose enormous leaves are eagerly gathered up by families as they fall) and 250-years-old sweet chestnut trees, floral planting adds yet more colour.
For the smells of autumn, there are woodland fragrant walks and the flowering dogwoods' autumn foliage. But the remarkable Candyfloss Tree (Cercidiphyllum Japonicum) offers the true spectacle; and Trentham is one of the best places in the UK to see, and smell, it.
When the weather conditions are right – a certain level of frost is needed to trigger the fragrance – it has a candyfloss, or rich burnt sugar, scent. While there is no guarantee of precisely when it happens (in 2018, and 2019, it was late October) the fragrance lasts for around two weeks.
The groves of Nyssa and Euonymus – planted on the lakeside walk beside the stumpery – are also starting to get well-established, and will be starting to show-off their fiery colours along with Trentham's groups of Liquidamber (Sweet Gum) trees.
These gardens are also a magnet for songbirds. Flocks of finches, followed by blue tits and long tailed tits, feast on the seed-heads from the annual and perennial pictorial meadows.
Among other seasonal highlights are the autumnal golds and silver seed-heads of Chelsea award-winning garden designers Tom Stuart Smith's and Piet Oudolf's perennial plantings in the Italian Gardens and Eastern Pleasure Gardens. A favourite throughout the year with visitors, the Italian Gardens are among the finest outside of Italy and thousands of perennials given the 'Chelsea chop' – a special pruning in May to encourage autumn flowering – offer late season colour, alongside the late season flowering stands of Michaelmas daisies and Japanese Anemones, as well as autumn foliage tints.
Misty mornings with heavy dews also create a magical autumnal scene across Trentham's famous Rivers of Grass – a breathtaking prairie garden landscape of grasses and vast herbaceous perennials; while rich and muted colours on flowers and foliage in the rose and perennial borders add to the visual treats.
Finally, Autumn provides yet another change of backdrop for the growing sculpture trails within the gardens – from magical wire fairies, to bronze wildlife installations – which take on a seasonal look with dew and mists adding to Trentham's impressive line-up of seasonal photo opportunities.
Ends
For all media information, photo-opportunities and images, please contact:
Grant Mantle
Tel: 01782 657341
E-mail: gmantle@trentham.co.uk
Notes to editors:
The Trentham Estate, on the edge of Stoke-on-Trent, Staffordshire, offers one of the UK's most diverse days out with a range of leisure activities for all ages. It is one of the country's top leisure destinations, attracting more than 3.2m visitors per year and was awarded a Gold Accolade by VisitEngland in February 2018 in recognition of the quality visitor experience offered. The fabulous restored Trentham Gardens at the heart of the Estate attracted 837,500 paid visits in 2019 – making them one of the most visited gardens in the UK. Owned and managed by St. Modwen, the expert developer and regeneration specialist, the 725-acre Estate, which was previously owned for over 400 years by the Dukes of Sutherland, has undergone a massive regeneration programme since 2003. The Estate boasts: The famous Trentham Gardens, including the very important Italianate Gardens designed by Charles Barry in the 1830s that have been lovingly restored using top landscape designers. The gardens feature the UK's first 'barefoot' walk, a great children's adventure play area and maze and a beautiful walk around the mile long lake, originally laid out by Lancelot "Capability" Brown in the 18th Century. The Trentham Garden Centre and expanded Shopping Village, an eclectic mix of shops and eateries with a 119-bedroom Premier Inn Hotel. Trentham Monkey Forest – a unique opportunity to walk amongst 140 free roaming Barbary macaques, in a natural woodland environment for this endangered species. Extensive woodlands.